It is my great pleasure to announce that Yamari Industries marked the 60th anniversary of its founding in May, 2015 with a new company mission "To always report precise temperature readings to our clients", to confirm Yamari's long-standing dedication to the thermal measurement industry. In looking back over our history, we appreciate that Yamari's many successes have been due to the support of our esteemed clients, dedicated employees, and reliable suppliers as well as many others.

For over 60 years Yamari as a company has progressed, along with the development of our Nation's economy and industry, by devoting our full efforts to the temperature measurement industry. However, during the rapid globalization of the world economy in recent years, ever more accurate and sophisticated temperature measuring technologies have been required world-wide to address emerging energy issues and environmental challenges.

To succeed in today's changing global management environment, Yamari returns to its roots in temperature measurement as an integrated sensor manufacturer, continues to pursue further advancements in temperature sensing technologies, and promises to provide our world-wide clients with highly accurate and traceable products. We truly believe that Yamari's on-going mission is "To always report precise temperature readings to our clients", no matter in which fields of measurement they work.

| | |
| --- | --- |
| Very truly yours, | |

Kensuke Noritake, President



Date of Foundation

May 27, 1955

Paid Up Capital

70 million Japanese Yen

No. of Employees

285

Domestic Subsidiaries

Yamari Sensor System Co., Ltd.
Yamari M.I Cable Co.,Ltd.
Yamari Seiki Co., Ltd.
Yamari Package System Co., Ltd.
Suzuki Seiki Co., Ltd.
Osaka Seiko Co., Ltd
Yamari Estate Co., Ltd.


Overseas Subsidiaries

Yamari Singapore Pte. Ltd.
M.I. Cable Technologies, Inc. (Canada)
Yamari Korea Co., Ltd. (Korea)
Yamari India Temperature Sensor Pvt Ltd (India)

Head Office

5-4, 1-Chome, Mishimae, Takatsuki-Shi 569-0835, Osaka Japan

Osaka Sales Office
  the 1st sec.  the 2nd sec.
Tel.+81-72-678-3453
Fax.+81-72-678-3516

Overseas Sales Div.

Tel.+81-72-678-4897
Fax.+81-72-678-3516

Adm.& Planning Div.

Tel.+81-72-678-3846
Fax.+81-72-679-1163

International Business Div.

Tel.+81-72-678-3452
Fax.+81-72-679-1163
| | |
| --- | --- |
| Sales Office | Osaka, Tokyo, Yokohama, Nagoya, Takasago, Okayama, Hiroshima, Kita-kyushu, Oita, Nagasaki |
| Factories | Takatsuki, Nagasaki |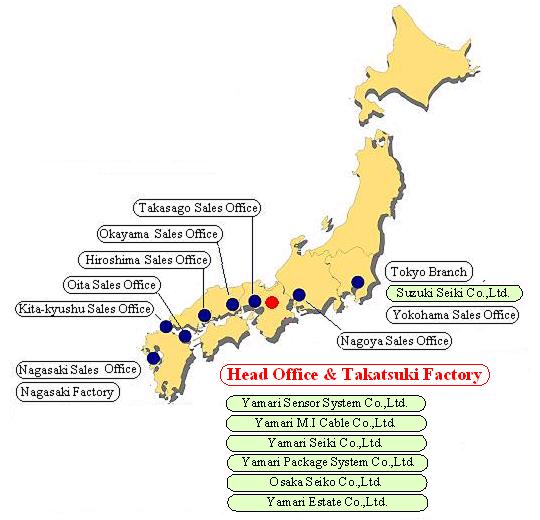 Subsidiaries

            

  Yamari Sensor System Co.,Ltd.

  Yamari M.I Cable Co.,Ltd.

  Yamari Package System Co.,Ltd.

Overseas Subsidiaries
Singapore

YAMARI SINGAPORE PTE LTD

541 Bukit Batok St 23, #04-00 Tacam Industrial Building Singapore 659546

TEL: +65-6268-0090  FAX: +65-6262-0013
India

Yamari India Temperature Sensor Pvt Ltd

#63 Padur Main Road Irulapalayam,Kuthambakkam Village Chennai 600 124,India

TEL: +91-44-2681-0025/86/96  FAX: +91-44-2681-0016
Canada

M.I.Cable Technologies,Inc.

Bay 6 ,5905-11th Street SE,Calgary,AB T2H 2A6 CANADA

TEL: +1-403-571-8266  FAX: +1-403-571-8267
Korea

YAMARI KOREA CO.,LTD.

#1003 Byucksan Technopia 196-5 Ojun-Dong Uiwang-City Gyeonggi-DO Korea

TEL: +82-31-427-4896 - 7  FAX: +82-31-427-3516
Overseas Sales Agency
Taiwan

Wade Enterprise Co.,Ltd.

4F.,No.118,Ln.235,Baoqiao Rd.,Xindian Dist.,New Taipei City 23145,Taiwan(R.O.C.)

TEL: +886-2-8912-1688  FAX: +886-2-8912-1168
China

Hansin International Trading(Shanghai)Ltd.

Rm 1612~1615 No.1403,Imformation Tower,Minsheng Road, ShangHai China

TEL: +86-21-3392-6688  FAX: +86-21-3392-7045

URL:www.hansin.com.cn
We are exclusive distributor in Japan of the following companies.
●Isothermal Technology Limited (ISOTECH)
 Pine Grove, Southport, Merseyside, PR9 9AG, England
 Website: www.isotech.co.uk
●TQSolutions Ltd.
 7368 L&A Road Vernon, BC, V1B 3S6, Canada
 Website: www.tqsolutions.net
●Measurements International Ltd.
 PO Box 2359, 118 Commerce Drive, Prescott, Ontario, Canada K0E 1T0
 Website: www.mintl.com